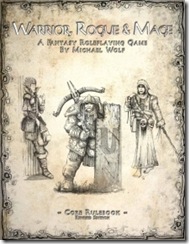 Quite a while back now, my good buddy Matt got me into the game Warrior, Rogue & Mage. It is a very interesting game system that piqued our interest because of the simplicity of it. We have continued to move towards less crunchy games in our gaming group and this one seemed to fit pretty well. We were able to play test it only once, but we liked the game mechanics. You can read the game we played on Matt's blog here: WR&M game.
The game was great and the rules were easy to follow. By the end we liked the system, but decided we needed to play test it some more. We will definitely be using it again in the future. If you have not heard of WR&M or had a chance to read it, I recommend you download it immediately and read through it the next chance you get. In the mean time, I thought I would post my character here for the Compendium. So, without further ado, here is Danion Rinklefin.
*****************
Danion Rinklefin
Talents: Micro Earth Elemental (Van Pebbles)
Spells:
1st – FrostBurn, Telekinesis, Magic Light, Healing Hand
2nd – Healing Light, Mage Armor, Lightning Bolt
3rd – Firebolt
Stats:
Warrior – 3
Rogue – 1
Mage – 6
HP – 9
Mana – 12-2-2
Defense – 6
Fate – 1
Skills:
1 – Thaumaturgy
2 – Alchemy
3 – Polearms
As you can see, Danion is a mage of considerable skills. He has a bonded companion in the form of a small earth elemental that he affectionately named Van Pebbles. He is well versed in the spells department and he knows his way around a polearm if the need arises. Danion is a lighthearted human of small stature, big heart, and mischievous nature.